Italian language Courses at l'Acanto School (Puglia) 
"L'Acanto's approach to teaching is to involve her students in everyday Italian life and living, which is why she not only taught us her language but also how to enjoy 'la dolce vita'." Janis B.
"I definitely recommend L'Acanto School. It was the type of experience I wouldn't have had if I had gone to a larger school." Alicia T.
"I recently spent two mornings taking Italian class with Michela at the L'Acanto school in the city of Mesagne, Italy. I have been studying Italian for two years with various teachers and Michela is one of the best, very experienced and professional" Ray M.,
In our school we offer the following Italian language courses for adults, which would enable you to make the right decision in your next study holiday in Italy, straight to the South!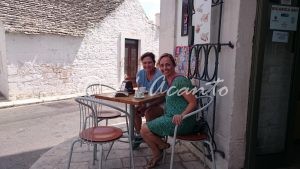 Italian language Tailor-made Course
Exclusive Italian language course for adults, only available in July and in September. A personalized Italian language class and tuition, a real and direct experience with the Italian local culture on the spot. Details
Guided Tours are available on demand and for an additional price. That is the best way to improve and practice your Italian by having informal conversations with your teacher and the locals.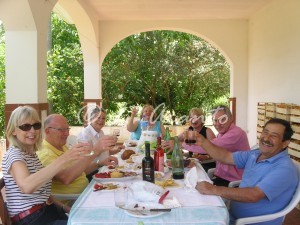 Learning Mediterranean, a Summer Italian language holiday in Italy
Learning Mediterranean is a brand new special l'Acanto School course. Our original Summer study holiday offers the chance to visit and experience Southern Italy by living like an Apulian in the picturesque town called Mesagne. Experience a genuine Mediterranean lifestyle with us. Available only in July and in September. Details
If you have been studying Italian for some time but realise that your pronunciation is still far from perfect, maybe a phonetics course would help to strengthen and improve your Italian pronunciation. Details
This course is a unique opportunity to deepen your knowledge of Italian language and Puglian traditional cuisine. Details